No to Violence works together with workplaces across Australia to support them in their response to family violence. Call us (03 9487 4500) to talk through how we may be able to support your organisation to be part of the movement that works to end family violence.
Why ending family violence is a workplace responsibility?
Family violence is a serious issue across Australia which impacts people across all demographics. It impacts individuals, families, communities and society – including employees, clients and customers.
No to Violence works with organisations who take action towards achieving gender equality and want to create environments that are not only supportive to people experiencing family and domestic violence; but also help them recognise and respond appropriately when they interact with someone who is using family and domestic violence.
By being leaders in this space, organisations are both contributing to a movement to ending family violence across our communities, and providing safe, respectful and inclusive workplaces for which staff can be proud'.
No to Violence's family and domestic violence resources for Australian workplaces.
Family violence costs Australia $21.7 billion per annum, including major costs in loss of productivity to business (PwC, 2015)
With the support of Commonwealth Bank and Norton Rose Fulbright, No to Violence has developed pandemic-focused tip sheets for workplaces on healthy relationships, employees' use of domestic and family violence, co-parenting, and managing personal behaviours.
No to Violence's Workplace Tip Sheets are available to download here.
How does No to Violence work with workplaces?
Every workplace is different – from organisational culture to levels of understanding and resources dedicated to addressing family violence issues. At No to Violence, we can tailor an approach based on organisation capability and available resources.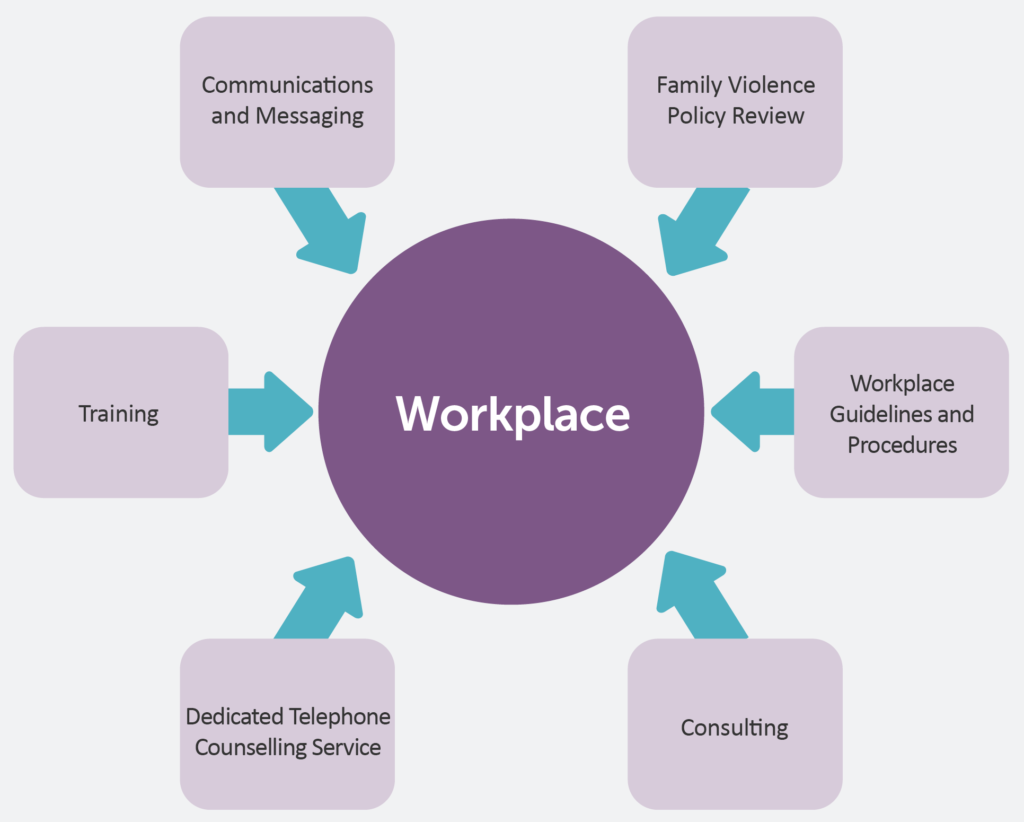 Current partnerships
Yarra Valley Water
Since 2018, No to Violence has been working with Yarra Valley Water to support them in their commitment to ending family violence. No to Violence has trained their WaterCare Support Team, who case manage customers experiencing family violence by providing them with the skills and confidence to navigate conversations with individuals who may be using family violence.

Yarra Valley Water was a key sponsor of the No to Violence Ending Men's Family Violence Conference in 2019 through 'A conversations with workplaces', which brought together leaders from Yarra Valley Water, Commonwealth Bank and Jacqui Watt, Chief Executive Officer of No to Violence, in a discussion around the way their organisations are ending family violence.

The partnership between No to Violence and Yarra Valley Water continues to grow as Yarra Valley Water leads the water sector in Victoria through their work in ending men's use of family violence.